We pride ourselves in our expert removal of algae from all exterior finishes throughout Ireland.
Algae
We are aware of the nature and extent of the development of algae on the surface of renders during the winter periods 2007/2008 and believe this issue to be entirely associated with the prolonged damp, wet weather which has been prevalent in Ireland for the last number of years.
This is a Europe wide problem as the unusually mild climate currently prevailing is encouraging the development of a variety of airborne species of algae. These climate conditions have given rise to a greater concentration than normal of airborne spores as well as spores of a more aggressive origin. For example we have seen the presence of red and black coloured spores in exposed coastal regions as opposed to the green spores prevalent in the current environment and associated with the formation of algae are of a type we believe to be more active than in recent times.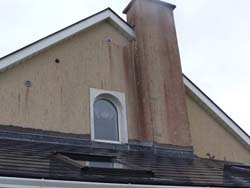 Performace
The problem of algae is affecting other European countries and not just affecting Ireland. Whilst acknowledging the unsightly impact of algae growth on renders it is not detrimental to the performance of the product. The development of algae is currently affecting the appearance of a variety of building materials, not just renders. Furthermore the inconsistency of the environmental effects is demonstrated by no algae on some sites or elevations but algae formation occurring in adjacent areas.
Remedy
We cover the entire building with an anti algae wash; washing it off when we feel that it has destroyed the roots of the algae, we then cover the building with a sealant which protects the building from further attack.